Home » Vinyl Pressing »
How to Prevent Vinyl Records from Getting Damaged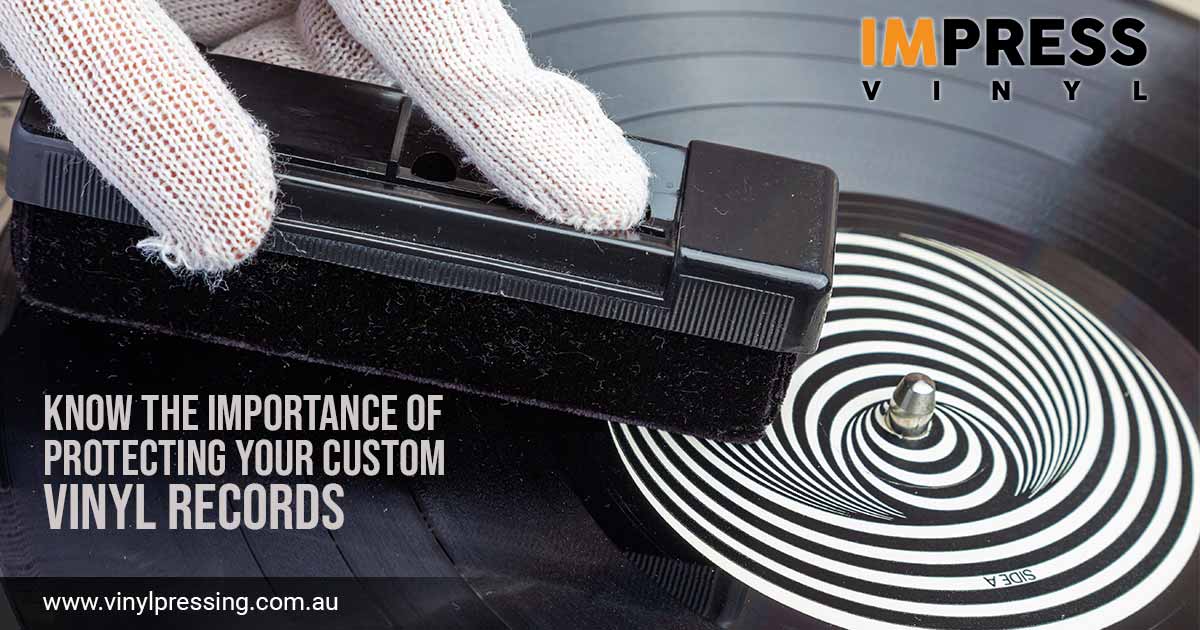 If you are a vinyl collector, your worst nightmare is a damaged disc. Custom vinyl records are fragile and can be easily scratched once it has happened;
It's challenging to repair and almost impossible.
These analog formats are uniquely special, whether passed down from generations in your family or someone who enjoys collecting these nostalgic records. Custom vinyl records give the experience of listening to music differently.
Vinyl records enthusiasts know the importance of maintaining and protecting the records. Custom vinyl records have many benefits over other listening media but have disadvantages, including the tendency to wear over time. Appropriate care for your unique vinyl records is crucial to assure their longevity.
Yet, if you are a true vinyl record collector, you know the importance of preserving your records. They are fragile and can easily be damaged. Even in this digital age, many fans and collectors still appreciate the nostalgia of vinyl records.
Here are some tips on effectively storing vinyl records to protect and preserve them regardless of condition or age, but if your record gets scratched, stretched, bent, or scuffed, it can result in skips in the music or not playing at all.
Various Tips to Prevent Vinyl Records from Getting Damaged
Get Yourself a Self Storage Unit
It's vital to store your vinyl records in a climate-controlled self-storage unit for extreme swings in the temperature to protect records from getting damaged. Custom vinyl sleeves get damaged due to moisture and humidity during a hot summer, and records could melt or warp.
You need to store it in an optimal climate control unit for a long time to protect it from mildew, extreme heat, and mold. Self-storage units have the inside humidity and temperature controlled to stay within a predictable degree. Whether you are storing your vinyl record or custom vinyl record covers in your home or a shop, you need to follow these conditions:
Maintain room temperature between 59-77 Fahrenheit.
Ensure you don't keep the records directly to sunlight.
The self-storage unit humidity level should be between 35%-45%.
Store Your Records in Dry Place
Always keep the records in a dry and cool place to avoid direct sunlight and heat. Your storage room should be comfortable with a room temperature of 65-75 degrees. Humidity can also harm your record, so keep the humidity below 50% to ensure the records spin for years.
Pick the Right Vinyl Record Box
When you keep the vinyl records verticals, you might need a perfect container to hold large amounts of records. If your home or shop has wine crates and cardboard boxes, it is perfect for storing and moving vinyl albums from one place to another.
For many vinyl lovers, record collection is one of their hobbies. There are various storage products available in the market. For instance, if you have records with different custom record sleeves and sizes for 7, 10, 12-inch, and maybe 45RPM, then you can organize and keep them in their separate storage boxes. Some of the popular storage units:
Cardboard storage boxes
Wood crates storage boxes
Plastic case storage boxes
Hard case storage boxes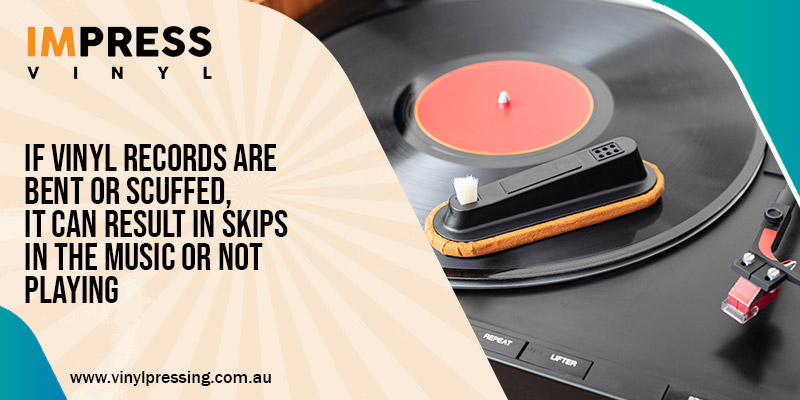 Ensure to Handle Vinyl Records With Care
Professional vinyl collectors recommend washing and drying your hands before storing and packing your vinyl record collection. Also, ensure that you only touch the label areas and edges of the vinyl records when handling records.
Always be cautious when cleaning the records to ensure custom vinyl sleeves don't get wet. You can get a record cleaner or a similar device if you have many records to clean. Ensure all the records are completely dry before putting them back inside the custom vinyl record covers, following the below steps:
Always use a microfiber cloth with a small pinch of vinyl record cleaning solution and wipe in a circular motion.
To remove the dust and dirt, gently wipe the vinyl surface with an anti-static cleaning brush.
Make sure to rinse the microfiber cloth with water and dry thoroughly.
Place the Vinyl Records Vertically
Keep your vinyl records verticals if you are putting records away for months or years, and never lay them on top of each other. Vinyl records that are laid flat will wrap over time. Use a record store cabinet to store vertically in the correct position.
Use record dividers that help keep your records organized with various record sizes to avoid unnecessary handling. Always keep the 7, 10, and 12-inch records separate with a divider.
Arranging Vinyl Records in Storage
Do not stack record boxes over three highs of the record collection. Doing so can put more pressure on discs on the bottom tier. Use wood shipping pallets to move from one place to another and avoid keeping them on the floor in case of flooding. Your vinyl records will be in good condition to spine on the turntable.
Protect Records With Custom Vinyl Sleeve
Custom record sleeves help protect the vinyl records from dirt and dust. Your custom record sleeves will get damaged over time due to tight packaging. If you notice that your record sleeve is not in good shape or has mildew blight, it's time to replace it with a new record sleeve.
Vinyl pressing provides service for vinyl record pressing in Australia and offers layers of the custom vinyl sleeves as per your needs, including:
Vinyl Record Outer Sleeves
Custom vinyl record covers have an outer sleeve minimum of 3mm thick, which is vital to protect the cardboard album cover. The primary purpose of these plastic custom record sleeves is to protect album covers from stains and scratches.
Vinyl Record Inner Sleeves
You can contact impress vinyl, a vinyl record pressing in Australia, to create custom inner sleeves with paper or plastic which is the main purpose is to protect the vinyl record itself. Traditionally pressing plants used paper sleeves, but it wore off, and record buff preferred new lightweight plastic inner sleeves made of polythene. But you can use both for inner sleeves.
Follow these steps; your records will be golden as today, and your collection will last many years. Contact impress vinyl, a successful vinyl record pressing plant in Australia, to get the first pressing with custom vinyl sleeves, jackets, packaging, and more which will be more valuable.
Custom vinyl records used to be a thing in the past, but today, more and more people are starting and growing their collections. Order your vinyl record today, and with a fast turnaround, we will deliver it all around Australia.