Home » Vinyl Pressing »
The Ultimate Guide for Maintaining your Vinyl Records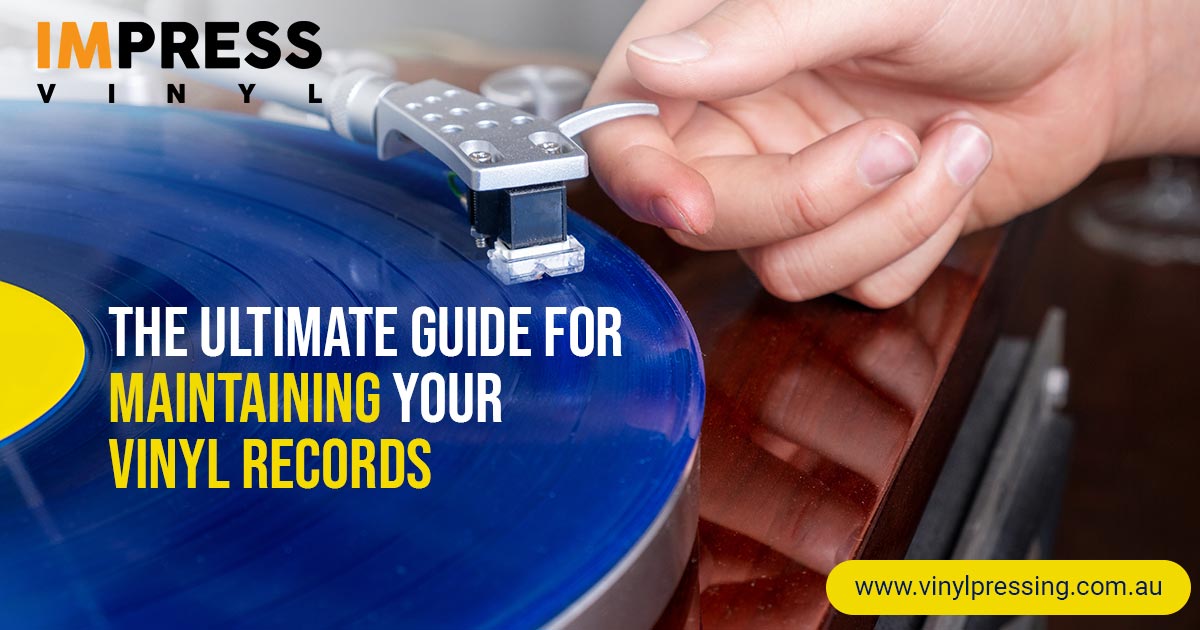 No matter what kind of music you enjoy, you probably have a comfortable spot in your home where you can kick back and enjoy all your favourite tunes. For many of us, this spot consists of a snug sofa, a record collection and a trusted record player. There's just something about old-school vinyl that makes music sound better than other formats. Unfortunately, it's also a hassle to keep your vinyl records in top shape.
When vinyl records aren't taken care of, they can quickly deteriorate in value and lose sound quality. They can develop mould, collect dust, break, bend and warp when left without care. But well-maintained records grow in value and are a source of pride and joy for owners, especially those actively building a collection.
In this article, we will answer the most common questions about caring for your vinyl records, from the proper way of vinyl cleaning to how to store them so they don't get scratched.
What exactly are vinyl records?
There's a lot of talk these days about vinyl records. But what exactly are they, and what are they used for? Let's take a closer look.
The history of vinyl records is one of extraordinary change and evolution. Originally invented in 1877 by Emile Berliner, vinyl records were originally made out of a type of plastic known as phono acetate. Unlike later records made of vinyl polymer, Berliner's originals were made out of a soft, smooth plastic that was able to reproduce low-frequency sound waves. Though vinyl records have seen a resurgence in popularity in recent years, they have a long and storied history that dates back to the early days of the phonograph.
In the current day, the term 'vinyl records' is used to refer to physical media discs that use a polyvinyl chloride carrier to hold the audio data. The discs are cut on a 12-inch format, have a two-sided playing surface, and can have up to eight tracks. Vinyl records produce music thanks to the 3D grooves engraved on the disks that help the needle/stylus on turntables to play the soundwaves.
So, now that you know what vinyl records are, let's understand how to take care of them.
How to store your vinyl records
While most people choose to store their records in a simple cardboard box, or even worse, in a pile on the floor, there are many better options. It can be difficult to properly store your vinyl records, especially the ones that are more precious, like custom vinyl records, but there are a few things you can do to ensure they last a long time.
Some of the main things to keep in mind while storing your records are:-
Store your records in a clean, dry place
Newer records especially should be stored in darker, cool and dry spaces. It is vital to avoid extreme temperatures, especially humid areas of the house.
Make sure to avoid warping
Warping happens when your record bends out of shape, often leaving it unplayable. The best way to prevent this is to keep your records away from high heat and away from direct sunlight.
Never store your records horizontally
Records can often be heavy, so storing them on top of each other can often lead to warping. The best way to keep them is standing on a sturdy surface.
Other things you can do to ensure proper storage is keep the records away from dust and dirt, and minimise the amount of time a record is exposed to air directly.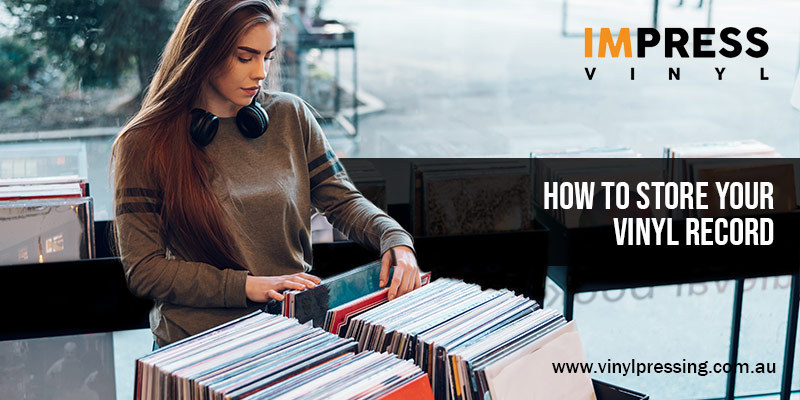 How to properly handle your records
It's important to be careful while handling your vinyl records. Always hold them by the inner label or with the edges. Vinyl records are similar to CDs in the sense that it's never a good idea to directly touch the data side. Touching that side might lead to you leaving residue like skin and dust from your fingers while also transferring oil into the grooves. You also run the risk of scratching the grooves with your nails.
Another way of keeping your vinyl safe is by adding inner sleeves. This prevents the record from moving too much inside the jacket. You can choose from a variety of materials while picking sleeves for your records:-
Paper Sleeves
These are usually included with the record when you initially buy it, and are the most basic, cheapest option. They sometimes come with cool additions like printing dates and record company logos, and so while we don't think they provide too much protection, we also don't recommend entirely throwing them away. These sleeves can leave paper dust, as well as scratch the records when they're being taken in and out.
Poly Sleeves
These are more durable than paper sleeves, but also more expensive. They do come with a host of benefits, from eliminating dust and scratching to making it easier to remove and put back. Many serious collectors choose to invest in these.
Paper with poly lining
These are a mixture of the above, with the main benefit being the poly lining reducing the scratching and making removal easy.
Regardless of the one you choose, sleeves are a great investment and help in long-term maintenance of your records.
How to clean your vinyl records
A simple google search for this question results in a variety of suggestions from dishwashers to toothpaste to expensive vinyl record cleaners. But before you try out any of those more bizarre methods, here are a few tips to get you started:-
Dry Cleaning
This involves using a carbon fibre brush on the record before and after every play. Also remember to keep the brush clean in-between uses.
Wet Cleaning
Wet cleaning uses a mixture of record cleaning fluid and water and gives the record a deep clean. It's crucial to dry the record after.
Cleaning machines are also used, more often by professional collectors, and are very effective. They also tend to be quite expensive. Another age-old trick employed by collectors is using wood glue, as it sticks to everything but the actual record, and helps you remove unnecessary gunk.
Wrapping up
Vinyl records are back in style, and as the demand has upsurged among the youngsters, it is of paramount importance to know how to take care of them. Nowadays it is not just enough to buy Vinyl records but also its necessary to have the right expertise to cut, press and design them.
At Impress Vinyl we make it easy to find your favorite vinyl records in Australia with our extensive range. Our goal is to create a high-quality vinyl record with minimal hassle. We understand the importance of quality in detailing, presentation and overall sound. Our high-quality vinyl is meticulously inspected for surface noise before we send them to you perfectly balanced for your stylus.  If you're looking for something unique but classic, we're here to help you design your next vinyl record!