Home » Vinyl Pressing »
7 Essential Vinyl Record Accessories to Improve your Listening Experience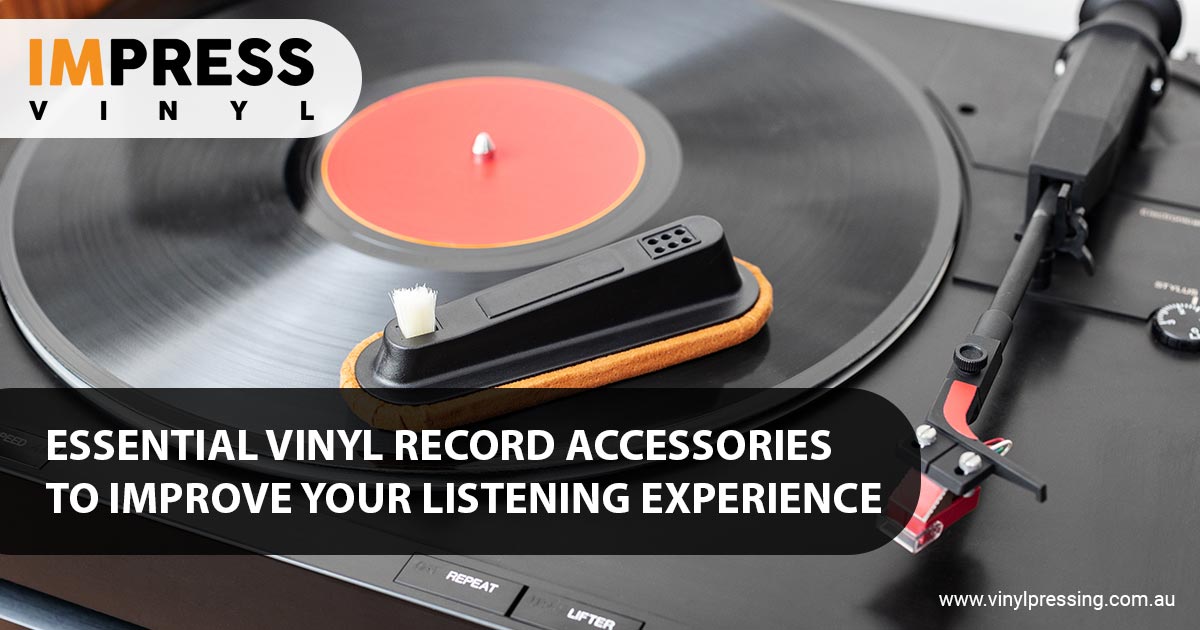 Vinyl records are slowly gaining popularity. People love to have a tangible collection of all their music in one place and enjoy the act of being able to choose and take care of their records. Vinyl records offer a unique listening experience that cannot be replicated with digital files. They offer the listener the ability to envision the artist performing in the same room.
These records appeal to people because they are a great way to preserve music. They don't degrade over time like CDs, and they sound better than MP3s. Therefore, they are a popular format among collectors. There are many different types and colors of vinyl records, and many collectors are interested in the different editions, artists come out with. Some collectors even buy records just for the cover artwork. Vinyl records have sentimental value for some people, and they can be a great way to reminisce about the music that you loved in the past.
Top 7 vinyl record accessories
For those who want to get the most out of their vinyl record collection, there are a few accessories to keep in mind. A record player is the most important accessory, of course. But there are also special needles that can be used to play records, and preamps that can be used to improve the sound quality. Some even purchase special storage cases to keep their records in good condition.
If you're looking for vinyl record accessories to enhance your experience and get more from your setup, here is a list to get you started:-
Stylus Cleaning Kit
When it comes to keeping your vinyl records playable, there is no substitute for a good stylus cleaning kit. A good stylus cleaning kit will remove dirt, dust, and other particles that can cause your records to skip or play erratically. If you don't clean your stylus regularly, the oils and sweat on your skin over time will accumulate and create an adhesive layer that can reduce the sound quality of your records.
Carbon Fibre Brush
One way to ensure your vinyl records last for a long time is to use a carbon fibre brush. It is made of carbon fibre, which is a material that is very stiff and durable. This type of brush will remove any dirt or dust that has accumulated on the surface of the record. It is important to brush the record in a circular motion and to avoid using any harsh chemicals. The brushes are also a great way to remove static from your records. Static can cause your records to skip, and sound distorted. Carbon fibre brushes are available in a variety of sizes and shapes and a variety of bristles, which can be used to clean different textures on the vinyl record.
Record Cleaning Kit
While carbon fibre brushes are great for cleaning vinyl records, they also occasionally require wet cleaning. Cleaning fluid mixed with water is the way to go, especially right after the record is bought. This is to remove any foreign material that might have gotten stuck to the record during the process.
Phono Preamp
A phono preamp also called a phono stage, is an audio component that amplifies the signal from your turntable to make it compatible with modern amps. Phono preamps take the low-level signal from your turntable and turn it into a line-level signal, which is the signal strength required by today's receivers and amplifiers. It helps reduce the distortion, the turntables tend to be susceptible to.
Vinyl Record Sleeves
For proper vinyl record storage, you can buy some good quality inner record sleeves. Look for sleeves that are antistatic and acid-free, as these will help protect your records from damage over time. You can buy record sleeves made from paper or polyethylene; paper sleeves are generally cheaper, but polyethylene sleeves will do a better job of protecting your records from damage. Choosing a high-quality option is the smart way to go, as the sleeves are placed right against the records.
Record Weights
Record weights are an accessory you can purchase to help improve your turntable's sound quality. They are placed on top of the record and help to minimize vibration and feedback. By increasing the contact between your record and the turntable's platter, you can improve audio fidelity. Record weights come in a variety of shapes and sizes, so make sure to do your research before purchasing one for your setup.
Record Storage
Record storage is important for two reasons: safety and sound quality. If you have a lot of records, find a storage system that can hold them all without taking up too much space. Make sure your records are stored in a way that prevents them from being damaged, especially custom vinyl records. If you live in a humid area, it's important to keep your records in a cool, dry place. Heat and humidity can cause your records to warp, and dust can accumulate on the surface of the record, causing pops and clicks. Many record collectors use wooden crates, which provide sturdy protection and allow for easy organization. Others use plastic sleeves, which are less expensive but don't offer as much protection.
The future of music-Impress Vinyl
Vinyl record accessories like record weights and storage systems can help improve sound quality. Store your records in a place that prevents them from getting damaged. While choosing accessories to invest in, be sure that they bring you long-term value and align with the problems you might be facing.
Impress Vinyl, Australia's leading vinyl pressing brand is a great place to learn more about the different accessories you can use to get the most out of your records. With our expertise, you can better understand how to maintain your records as well as improve your listening experience. Now you know where to head if you want custom vinyl records.
All that's left for you to do is stock up on the necessary accessories and get ready to order custom vinyl records.