Home » Vinyl Pressing »
How Much Does it Cost to Press Vinyl?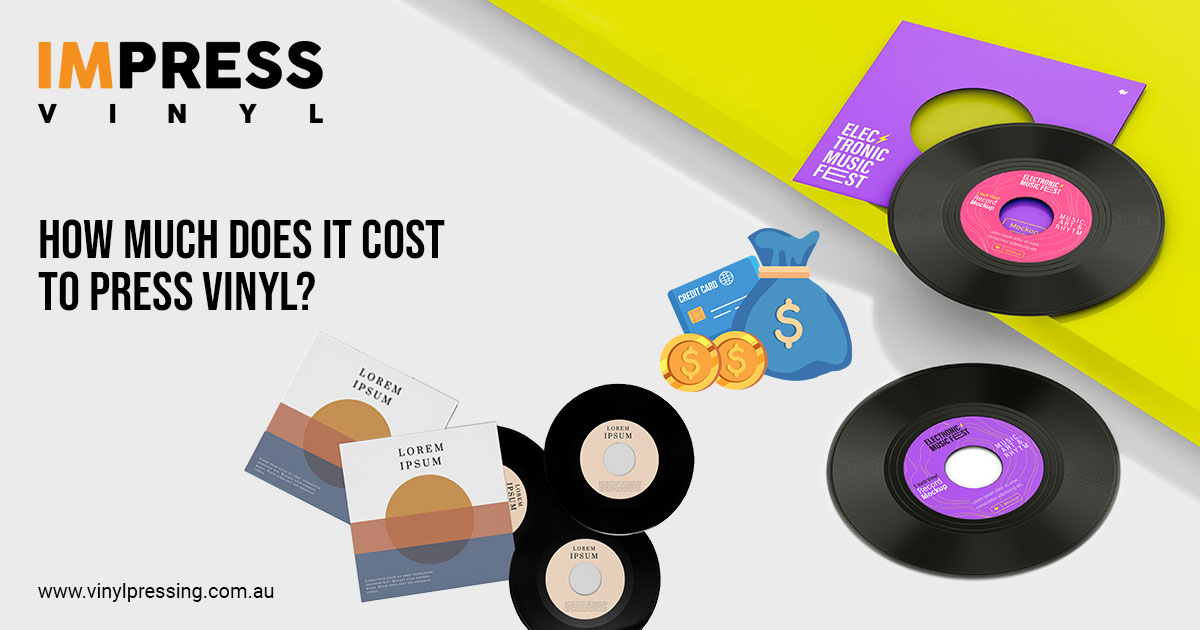 The price of pressing vinyl will vary from plant to plant and from country to country.  At Impress Vinyl we specialise in pressing vinyl for the Australian and New Zeland market so all the following information will be in AUD and based on the vinyl being picked up in Melbourne.
Our pricing works by including all the cutting, metalwork, and setup costs in the vinyl costs.  Therefore these are things that don't really need to be taken into consideration when getting your vinyl pressed but will come into play if you ever get a repress as some of these costs are one-off fees so won't need to be paid for again (making represses of you vinyl more economical than your initial pressing, but more on that later).
There are also many other factors that can affect the cost of your vinyl, record weight, size, and colour, type of cover and of course the amount of vinyl you will be ordering.  For the sake of keeping this post as simple as possible, we will look at the most popular vinyl package that is ordered through Impress Vinyl –
12-inch vinyl – 150GSM Black Vinyl – Full-Colour labels – Paper Inner (unprinted) – Outer Sleeve with 3mm spine – Full Colour – Cello Bag resealable
The below prices are for the above specs –
100 units will cost $18.50 ex ($1850 ex in total)
300 units will cost $10.00 ex ($3000 ex in total)
500 units will cost $7.80 ex ($3900 ex in total)
1000 units will cost $6.35 ex ($6350 ex in total)
physical Test Pressing $200 ex
This is by far the most popular combination that we offer but we have an easy to use online pricing tool so if you ever want to change any setting you can do it as easy as clicking a button and you can just do it here
An important thing to note is even though an initial TP cost $200 if you find an issue with your TP and the fault lies in the supplied files then a second TP will cost $850 ex GST as many of the costs for the TP are incorporated into the vinyl run.  And as mentioned before if you do get a rerun of your vinyl pressing there are saving to be made.  Firstly as you won't need another Test pressing as that has already been approved and then there will be a $300 saving over on the vinyl pressing run itself. So second time around and you can be looking of saving of $500 on any of the prices above. As always we would love to work with you on your vinyl project and all the pricing here should be used as a guide so speak to one of our experts on 1300 280 922 to discuss you next vinyl pressing in Australia.